The Space Theatre
26th – 28th of June 2019
AN EVENING OF ENTERTAINMENT FEATURING SONGS FROM YOUR FAVOURITE MUSICALS.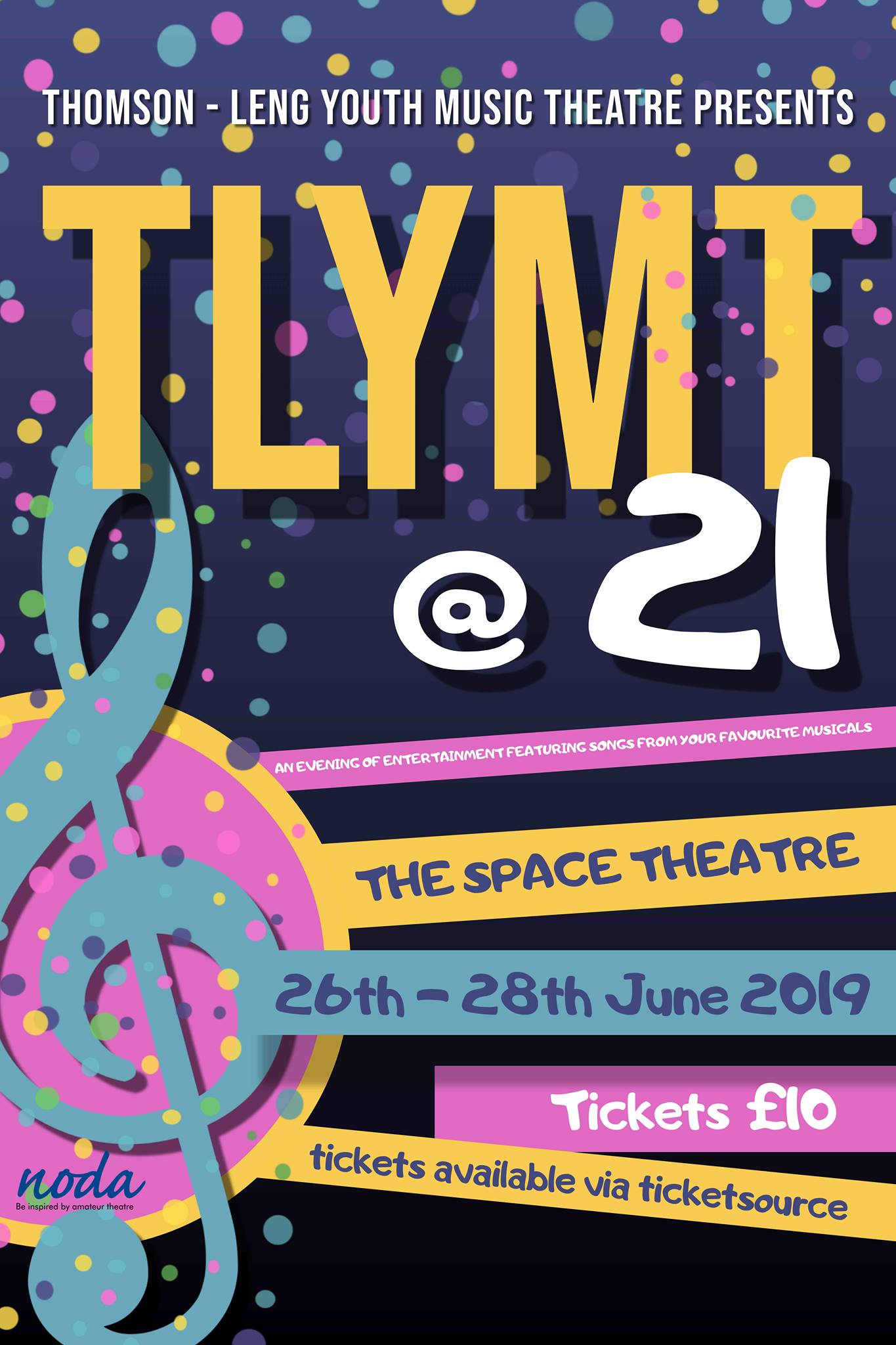 TLYMT@21
| | |
| --- | --- |
| DATE | 26th June 2019 |
| SOCIETY | Thomson-Leng Musical Society |
| VENUE | The Space, Dundee |
| TYPE OF PRODUCTION | Musical Revue |
| MUSICAL DIRECTOR | Billy Muir |
| CHOREOGRAPHER | Donna Reilly |
Report
Author: Roger D. Buist
Tonight's show was a celebration because it was a Birthday Party! This young, youth theatre company was celebrating 21 years of presenting stage shows and musicals and this present musical entertainment certainly showed the young company's talents, energy, vocal capabilities, dancing, and … smiling faces, as they all set about to entertain their audience to mark this milestone of the society's history. Simply staged, and with giant lettering – TLYMT21 – dominating the stage, this was disco lit throughout the entire show, thus providing colour to the production. The company was 41 people strong and covered a vast age range and they performed with a great passion, so much so, that their little / big hearts must have beaten with great pride. And, it was a big singing show for the company which meant a lot of words to be learned! The musical programme was vast and wide and contained selections from today's modern musicals and from some up-to-date London productions. Every single person in this cast, whether young or old, was a star in his, or her, own right and it would be totally wrong for me to name the main singing leads, because every singer appearing on stage truly deserved to be mentioned. And, speaking of young leading singers, it totally amazes me the power these young people of today have in their voices! Among the many musical highlights was a great opening selection from The Lion King, which got the show off to a great start. Then the tempo changed and off we went into A Chorus Line and heard a fabulous Nothing song, which was quickly followed by songs from Bugsy Malone. Next came a selection of songs from London's latest and newest show Waitress, followed by a cracking Miss Saigon selection. Whistle Down The Wind, Shrek, Grease, Seussical, all brought forth musical highlights, and then it was the Finale! You don't have to guess what it would be because it was . . . yes, you've guessed it – the obligatory Les Mis! And what a powerful musical finale this turned out to be. The show flowed slickly and smoothly; the dancing ensemble was spot on; and keeping a critical eye on all things musical throughout the entire performance, where he sat playing at side stage, was their hard-working MD! It was a great 21st Birthday Party celebration and I was totally blown away by it all!