Consider yourself at home with Lionel Bart's classic musical based on Charles Dickens' novel, Oliver Twist. The Tony and Olivier Award-winning show is one of the few musicals to win an Academy Award for Best Picture and is widely hailed as a true theatrical masterpiece by actors and audience members alike.
Oliver! is a musical theatre masterpiece, perfectly showcasing the talents of a large ensemble cast as they bring these classic characters and score to life.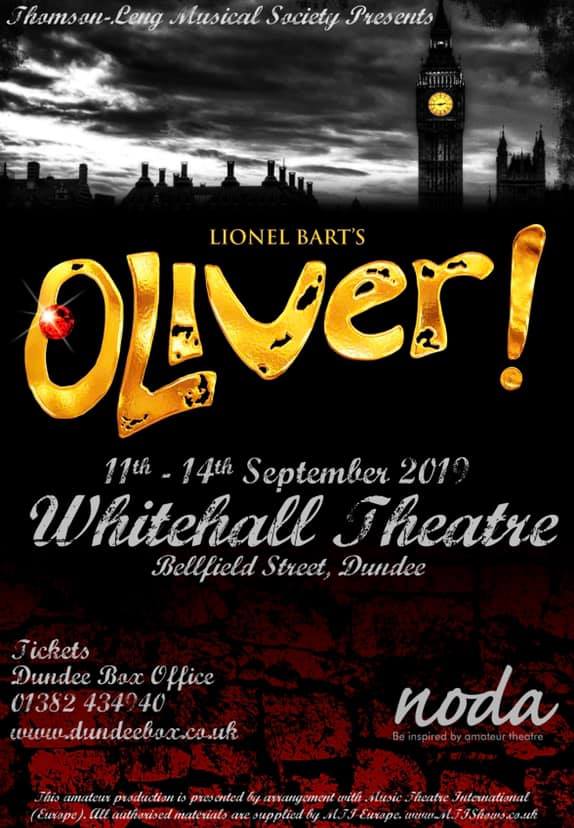 Oliver!
| | |
| --- | --- |
| DATE | 11th September 2019 |
| SOCIETY | Thomson-Leng Musical Society |
| VENUE | Whitehall Theatre, Dundee |
| TYPE OF PRODUCTION | Musical |
| DIRECTOR | Donna Bell |
| MUSICAL DIRECTOR | Billy Muir |
| CHOREOGRAPHER | Donna Reilly |
Report
Author: Roger D. Buist
Charles Dickens' London came to life when this society took to the stage in this much-loved musical in a lively, vibrant manner. Packed full of Lionel Bart hit musical songs, Dickens' famous characters came alive in a visually imposing way. Both the young male leads Oliver, (Maxi McRobbie) and The Artful Dodger, (Archie Turnbull), were strong, assured, and confident within their roles – young Oliver, with his necessary plaintive look, gave an extremely appealing Where is Love? and Dodger, strutted around, chest thrown out, full of his own importance. So, a big "Well Done", lads! Arch villain No.1 of the piece, Fagin, was brought nicely to the stage by Raymond Uphill-Wood, who showed a great feel for the character, both in style and in manner, plus magnificent stage make-up bringing this character visually alive. His Reviewing The Situation was excellent and riveting to watch. As, arch villain No.2, Bill Sykes, made his presence known with his threatening solo "My Name" and Craig Rose carried the role through in a masterful, aggressive manner looking every inch the bruiser bully man that he is, and a person you don't want to meet on a very dark night! As the live-in wife of the terrifying Sykes, whose abuse she endures because she loves him, Rachel Hogg was at her theatrical and musical best, extremely evident in her superb As Long As He Needs Me(enthusiastically applauded) where she professes her undying love for Sykes. This great musical has an assortment of wonderful character parts, briefly … Neil Hartley and Jude Vandecasteele as the heartless workhouse caretakers, Mr Bumble and Widow Corney; the awfully insensitive Sowerberry group – Michael Sanderson and Allison Wylie as the Mr and Mrs, obnoxious Noah Claypole (Zac Brownlow),and his girlfriend, Charlotte (Cara Gordon); the good kind Mr Brownlow (TomRichmond) and faithful and homely Mrs Bedwin (Denise Main); Lucy Reilly was a surprise female Dr Grimwig; and Nancy's close friend, Bet was a fine Terri Milne. And who could not forget the well-behaved Hugo as Bullseye, Sykes' dog, who didn't put a paw wrong and received great applause as he padded off stage, on cue, with no human aid! All the famous showstopper songs were extremely well staged with great liveliness and panache in music and in action (Consider Yourselfwas a real cracker!), and there was a great, talented bunch of smashing youngsters playing orphans and pickpockets. What more could anyone ask for?
The role of Fagin was shared throughout the show's performances and my report concerns the player seen on the night I viewed the show. Fortunately, NODA Councillor Stuart McCue-Dick saw the Saturday matinee performance, and here is his review of the alternate Fagin character. – R.B.
I was delighted to see this wonderful production of Oliver! Dark and menacing but full of life in equal measure. At the matinee I saw Tom Richmond in the demanding role of Fagin – what a performance capturing the many sides to the loveable rogue to perfection. His rendition of Reviewing the Situation was a delight. Raymond Uphill-Wood who alternated the role of Fagin played a caring Mr Brownlow at this performance whilst Nathan Forsyth was a suitably bulling Noah Claypole.